Financial Consultation based on Investment Risk Apetite

As part our function to evaluate real estate investments opportunities, we generate financial modeling. We build Discounted Cash Flow (DCF) models which project future cash flows and discounting them back to the present using a discount rate. We perform investment property analysis including real estate valuations and calculations of financial indicators, i.e. Capitalization Rate, Internal Rate of Return (IRR), Return on Investment (ROI) and Cash-on-Cash Return Rate.  
 Profile
Edgard Asensio, MBA
Education
Loyola Marymount University (LMU)
Affiliation
LMU MBA Alumni Association (MBAAA)
MBA Alumni Board
Group
LMU Real Estate Alumni Group (REAG)
Co-Founder
President

Our firm's objective is to offer you the service to safeguard your investment. An important part of our business development is our brand recognition. We have developed a recognizable brand which has translated into clients trusting our real estate services and viewing our analysis and representations as valuable services. We have company systems put into place that evolved over time.
We generate property investment analysis, assisting investors in deciding to sell and exchange their real estate asset as well as identifying a replacement property. Investors are encouraged to request a real estate investment strategy that includes recommendations to reinvest the property's proceeds by comparing financial indicators  as well as property locations and conditions.

2071 Torrance Boulevard, Torrance, California 90501 USA
1-310-618-0808 office / 1-310-618-0505 fax
Investors are encouraged to continue learning about

the variables affecting the real estate market.
1. There are 3 categories of fixed income securities: Treasury Bonds (20- or 30-year term), Treasury Notes (1-, 5-, 7- or 10-year terms) and Treasury Bills (4, 13, 26 or 52 weeks).
2. Direct correlation (R and R squared) between U.S. Treasury Notes and Mortgages Rates. Treasury notes affect the interest rates on fixed-rate mortgages. When Treasury yields are higher, so are interest rates. The 10-year note affects 15-year conventional loans, while the 30-year bond affects 30-year conventional loans.

3. Investors can evaluate the costs associated with three types of commercial real estate leases, i.e. Full Service, Net, Modified Leases.
4. Full Service Lease (Gross Lease): The owner pays all or most expenses associated with property, including insurance, taxes, and common area maintenance (CAM).
5. Net lease: the owner charges a lower base rent for the commercial space + real estate taxes,  property insurance, and CAM.
6. These are three types of net leases. Single Net Lease (N Lease): lessee pays base lease + a prorated property tax and utilities. Double Net Lease (NN Lease): lessee pays base rent + a prorated amount of property taxes and insurance. Triple Net Lease (NNN Lease): Lessee is responsible for property taxes, insurance, and CAMS on top of a base monthly lease payment.
7. Modified Gross Lease: The lease payment is requested in one lump sum, which would include any or all expenses, including property taxes, insurance, and CAMS. Investor and lessee negotiate which nets are included in the base lease rate.
8. Investors can estimate sales price by using an Income Capitalization Approach which is based on collection of Gross Schedule Income (GSI). Investors must keep in mind that there are additional variables that could affect pricing including property condition as well as upward or downward trends according to market segmentation.
9. Investors ought to consider capitalization rate (Cap Rate) on a real estate investment property. Cap Rate is a rate of return based on the projected income that the commercial real estate will generate. The calculation of capitalization rate is done by dividing Net Operating Income (NOI) by the sales price. 
10. NOI does not include debt service or the interest component of debt service.
11. These are the property sectors that real estate investors can evaluate Capitalization Rates: Office, Retail, Industrial, Multifamily, and Hotels. In each property sector, the buildings are generally classified as being either a Class A, Class B, or a Class C building, excluding Hotels.
12.  In regards to high street retail, there was a declined  in cap rates, which is aligned with the trend of increased demand for this type of investment type -property sector, as the recovery progresses.
    Wealth Building Tools
In order to formulate a wealth accumulation strategy, investors evaluate the project's free cash flow as well as compare financial indicators including gross schedule income, gross rent multipliers, capitalization rates and cash on cash returns. Thereafter, investors are prepare to execute a real estate purchase agreement, identify an accomodator and re-invest their proceeds on a replacement property.
A 1031 real estate exchange is a way to defer income taxes on investment property. Investors will have to pay income tax eventually. The 1031 exchange allows them to defer the tax payment until later, thus this allows clients to build wealth.
Our organization is prepared to represent clients who plan to execute "1031 tax deferred exchange transactions". Frequently, exchangers choose to have their replacement real estate lined up before they close on their relinquished income property. Residential, Commercial and Industrial Real Estate Investors need to identify their 1031 Exchange Replacement Properties within 45 days of closing sale on the real estate asset they are selling.
Educational Content
prepared by Edgard Asensio, MBA
ESCROW IS OPENED

 Multi-Family Building in San Diego County

Investment Thesis
Diversify your investment portfolio by adding fixed assets. The sale of vacant land parcel can accelerate private investment in an area that is critical to urban development. Contact us today at 310-618-0808, if you wish to purchase a parcel of vacant land.

" We are aware of the benefits and risks that come with owning real estate and value the trust you place with us."
Edgard Asensio,  MBA
President
BRE #01253842

SOLD
ML# SB16020465
Phelan, California 92371 USA
2.5 Acres of Vacant Land

Location: East of US Highway 138

Near the Corner of Lebec Road & Elsinore Road
Phelan, California 92371 USA

Assessor's Parcel Number: 3066-181-08

Land surveyor set survey monuments with
wood lath and flagging at property corners.
TRANSACTION STATUS

 OPENED ESCROW: ON 02/08/16
ClOSED OF ESCROW (COE): 03/01/16

 410 E. Fallbrook St.
Fallbrook, California 92028 USA
Highlights
Number of Units: 12
Lot Size: 23,957 Square Feet
Year Built: 1986
Proforma Cap Rate: >5.5% (Desirable ratio of net operating income over the price that an investor will pay for this particular asset)
Economic Occupancy Level: 90%
Buyer's Value Proposition

The potential benefit for generating higher growth rates by increasing rates of leased units after buyer acquires this real estate asset.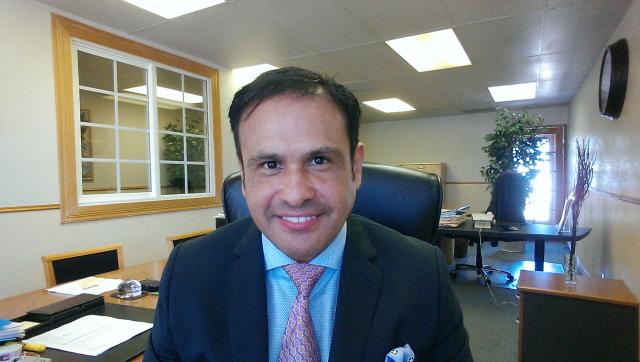 Upcoming Income Property

 Prime Location in Torrance
2983 West 235th Street, Torrance, California 90505 USA
Lot Size: 6,385 Square Feet; Building: 5,275 Square Feet

Year Built: 1964; 4 Units: 10 Bedrooms; 6 Bathrooms
2 Double Enclosed Garages; All-Electric Building

SOLD
20434 S. Vermont Ave., Unit #65
Torrance, CA 90502 USA

ML# SB16050029
A one-bedroom condominium located on the ground floor of the building. There is direct access from the gated parking area to two parking spaces. The kitchen is fully equipped with electric stove, dishwasher and stylish holding cabinets. The cozy bedroom has a walk-in closet and ceiling fan. There are laundry and outdoor swimming facilities in the property. Size: 656 Square Feet. Year Built: 1978

Click here for additional photos.

Broker's Open held on Thursday, April 28, 2016 between 1:00 pm and 4:00 pm
Executed Purchase Agreement: May 3, 2016
Funding Date: June 22, 2016
Closing Date: June 23, 2016

SOLD

(Hedge Fund Transaction)

TOWNHOUSE
2216 Dominguez Street
Torrance, California 90501 USA
APN: 7354004057

ML# SB16113971
Update: Lender is preparing Closing Disclosure (CD)

2 Bedrooms, 2 Bathrooms, Double Enclosed Garage

Balcony, Travertine Floors, Recessed Lighting

Maple Cabinets, Granite Counters

Year Built: 2005

REAL ESTATE INVESTMENT CONSULTATION
If you are an international or domestic investor who reads our website content and wishes to sell your real estate asset,

feel free to contact Edgard Asensio, MBA.
 Email Address: edgard@asensiorealestate.com 
US Office Contact Number: 1-310-618-0808

THANK YOU FOR VISITING OUR WEBSITE AND WE WOULD LOVE FOR YOU TO BACK VERY SOON

Multinational Corporations, Medium-Sized and Small Enterprises, including MNC's located in Torrance, California (United States), i.e. Honda Motor Company, Ltd., Panasonic, Lexus -a Division of Toyota Motor Corporation as well as Google Inc., Microsoft Corporation, Apple Inc. & Sprint Corporation.
We encourage visitors, reading our content to contact us today if you wish to form a business alliance in connection to our brokerage services, educational content and real estate research. There are many new digital platforms emerging around the world.  Thus, let us know what you have learned from reading our website content and include "Asensio Real Estate" in your blogs and digital contents.
                              

  Commercial & Industrial
asensiorealestate.com

We encourage you to contact Edgard Asensio, MBA at 310-618-0808, if you are seeking an attractive financial investment. Edgard will formulate a sales strategy that will diversify and preserve wealth through commercial & industrial real estate acquisition.

Closed Sale
ML#SB13116144
3943 Admirable Dr., Rancho Palos Verdes, CA 90275 USA
Year Built: 1959; Square Foot Structure: 1,828 Square Foot Lot: 10,001
 OUR VALUE ADDED-DIFFERENTIATION STRATEGY
WE SEEK TO PROVIDE  SERVICES UNIQUE FROM THOSE OF COMPETITORS IN TERMS OF BROKERAGE AND
FINANCIAL CONSULTATION.

ASENSIO IS A BOUTIQUE REAL ESTATE FIRM COMMITTED TO PROVIDING EXCEPTIONAL AND PERSONALIZED SERVICES, INCLUDING BUSINESS STRATEGIES FOR ACCREDITED AND DIVERSIFIED INVESTORS WHO ARE SEEKING INVESTMENTS IN THE REAL ESTATE ASSET CLASS.

OUR CLIENTS RECEIVE MORE ATTENTION AS WELL AS INTIMATE RELATIONSHIP AND EXPERIENCE BASED AROUND CONSISTENT ONE-ON-ONE INTERACTION.

As a Commercial Brokerage Industry leader, we provide services to investors who opt to sell their real estate assets and perform real estate exchanges. Formulating business strategies for allocating capital, preparing financial analysis of real estate investments and representing clients in commercial and industrial transacations are our specializations.

                           A Real Estate Brokerage Firm                              

 

2071 Torrance Boulevard, Torrance, California 90501 USA
Office 1-310-618-0808 | Fax 1-310-618-0505
Email: edgard@asensiorealestate.com

www.asensiorealestate.com